Colorado AIDS Memorial Re-dedication
by Robert Riester
There was a damp crispness to the air shortly after the fog had burned off around noon on Sunday May 15, 2016, as the core group of project leaders and a few volunteers gathered at Commons Park to set up for the highly anticipated Re-dedication of The Grove: Colorado AIDS Memorial. This project had been nearly 7 months in the making with many weekly meetings and several visits to The Grove site, which in November looked neglected, brown and left much to the imagination for a vision of a peaceful place of contemplation. There were signs that life had flourished there, but two seasons would have to pass before anyone would know just what would emerge as a survivor. Heavy rains and flooding from the adjacent Platte River in the preceding spring had left their mark in the form of encroaching sand, a washed out bike path and some debris. The view from across the Platte River showed more promise than being in the physical space, which was teaming with matted leaves, litter and some well-worn walkway shortcuts that crisscrossed the two acres of this neglected site.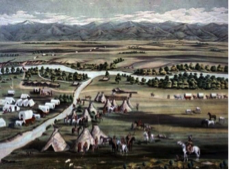 The land itself was first home to the Southern Arapaho Indians, then mining settlers who in the latter part of the 19th century, would transform the confluence of Cherry Creek and the South Platte River into a settlement that would later be called Denver. Railroad tracks would later occupy much of the area to the east of the Platte River, to serve the ever growing mining outpost. As the railroads began to disappear for more efficient means of transportation, this spot of land would lose favor due to low-lying flooding and the metropolis being built on the higher ground to the east. Development of this area had not yet been conceived at the start of the 21st century, so it was easy to see why the City & County of Denver and the Parks and Recreation Dept. would grant the land to a small group of individuals who wanted to fulfill a dying man's wish for a peaceful, natural place for quite reflection for those who wished to honor those who had passed away from the AIDS epidemic, and their caregivers in the 1980's and 90's.
It took 7 years of planning, negotiating, fundraising, etc. for the original group of dedicated community members and friends to establish The Grove, and on August 13, 2000 it was dedicated to those who had lost their lives to AIDS and those who cared for them. The area of The Grove was marked by an upright angular flagstone simply engraved with an image of the surrounding cottonwood trees and the words The Grove. Several other flagstone slabs were placed along a path and were intended for an area to sit in quite reflection amongst the natural surroundings. The highest of these stones was engraved as well, with the purpose of The Grove.
A legacy had been established and etched in stone, but unknown to most who would walk or bike past them. In fact many in the HIV/AIDS community of the present day had no idea that this space even existed, save for a few of the original group members who established it sixteen years ago.
The city of Denver was rapidly evolving and growing, with major expansion projects that would reclaim the area that once was home to steely rail yards and derelict remnants of industry that had long since moved or became irrelevant to a new millennium. This growth would require adequate housing and infrastructure to support it, and the grand old Union Station at the western foot of downtown would be the catalystic jewel in the crown for this emergence. The area around The Grove was now a hot spot, teaming with upwardly mobile and active new settlers that were once again coming to the Queen City of the Plains in droves to seek their fortunes and live the dream that the native population had always enjoyed and respected. The Grove was quickly being surrounded by glass and steel monoliths, and every inch of land was suspect for determined developers, leaving few open spaces. It's unclear whether or not The Grove was ever in any danger of being consumed by development. What was clear however, is that revitalizing The Grove would not only revive the legacy that was left behind, but bring back the conversation to simply state that this is not over yet, and we cannot become complacent.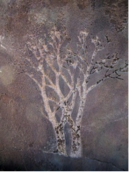 Activism and history are being replaced by complacency in many ways as well. As HIV becomes a manageable disease and options to prevent it become easier, we tend to lose sight of the horrific struggle that others had to endure in order to make living with HIV much easier now. Those who managed to survive those horrible times are now dealing with living and aging in a very different world, a world where HIV is no longer a big deal. Thankfully there are some who do remember and know the importance of history, and the road that has been paved.
In late 2015, a small group of individuals including some members of the original group who created The Grove, gathered at Ink Coffee shop just across the street from The Grove at Commons Park to discuss its decline and its future. Some of the members of that gathering had no idea that The Grove even existed (myself included), but the idea of a revitalization project was something that resonated in some form or another with each of those individuals. Some of us were meeting each other for the very first time, and some in passing visa vie HIV related endeavors, but there was no doubt that we all had a passion for this project. Seeing The Grove for the first time was a bit emotional to say the least. I had recently been to the National AIDS Memorial Grove in San Francisco, where my former partner's name is engraved in The Circle of Friends, and the surrounding areas have many levels of peace and beauty to offer one who needs a place for quiet reflection. In fact, the National AIDS Memorial Grove was the inspiration for The Grove at Commons Park.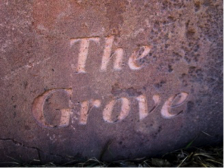 We listened to those who were involved with the original creation and dedication, which was of a dying man's wish that was faithfully fulfilled by trusted friends. We also listened to each other as the meaning and importance of this project would formulate a connective structure on which we could attach ourselves to, in ways that would be respective of the original concept and also reflective of the diversity at hand. There were so many different personalities from so many different backgrounds at the table that day, that would scarcely if ever meet at one setting, yet it was as if Doug McNeil himself had hand-picked each one from beyond to realize the fruition of his vision of so many years ago.
As this project organization took shape, it was clear that those who were involved with the original creation of The Grove were satisfied that the project was in good hands and that the torch could be passed to the assembled. We as the assembled had no idea of the scope of this undertaking, or that it could be very well accomplished in a relatively short period of time. This was due in large part to two factors. The first was the very well laid groundwork for the original vision, which took about seven years. The second was an organizing factor that was capable of harnessing all of these personalities, their energy and ideas into a well-oiled machine that would not derail. That organizing factor came to us in the very capable form of Carrie Webber, who had been the administrative assistant to the Denver HIV Resources Planning Council, and was quite used to a cacophony of different personalities. As winter waned, we began to meet on a weekly basis to achieve our goals. The group strategically chose May 15, 2016 as the re-dedication date, to coincide with the International AIDS Candlelight Memorial. This spring date with the subliminal suggestion of life and renewal would theoretically offer more favorable weather conditions than would World AIDS Day on December 1st in Denver Colorado.
Building upon what had already been established, the group engaged in relations with the City and County of Denver Parks and Recreation Dept., who were not reluctant to assist us and by historical accounts, were much easier to work with than the original group had experienced. Formulation of print and social media concepts, elements, and strategies would take a considerable amount of time, given the scope and reach of this project, but once in place, would become the foundation for future phases. We were indeed fortunate to have the valuable input from the original group, as well as that of some very experienced individuals in this area. This solid foundation along with regular meetings would become a key factor to keeping everything and everyone on track.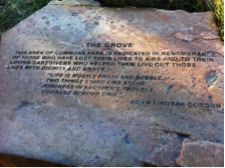 After a few consultations with the Parks and Recreation Dept., we had a pretty good idea of their role in this project, as well as what we could and could not do. Our first measurable task was to hold a Community Stakeholders meeting, which took place on April 5th, 2016 and for many there, this was the first they had heard of The Grove. This meeting would give us the valued community input that would be crucial to the rest of the process. Background of The Grove and our vision was presented in the form of three videos featuring: Patterson Benero, Pat Gourley and Brent Heinze, as well as a presentation from the director of Denver Parks and Recreation Dept. showing that we had the full support from the City and County of Denver. As a result of this meeting, a major change to the signage would be made due to the input from one of the community members present. We also received additional support for the project from other organizations, which confirmed to us that we were on the right track and making an impact. Participants at the community stakeholder meeting were also given the opportunity to volunteer or participate in the two Grove Cleanup days and/or the actual Re-dedication.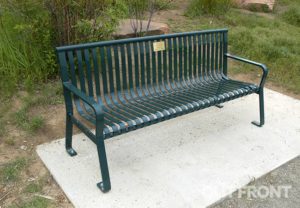 Our first clean-up event happened on Sunday April 24th with approximately 20 volunteers, including Allegra 'Happy' Haynes, who had been appointed as Parks Director by Mayor Michael Hancock the prior year, and was not afraid to pick up a rake and put it to use. There was also a crew of five from Denver Parks and Recreation Dept. on hand to provide us with the tools we would need and to give us instruction. Prior to our arrival, the Parks and Rec crew had installed a new bench with a plaque we had to commemorate the original Grove dedication on August 12, 2000. They had also removed some dead trees and had new holes dug for 19 new Cottonwood trees to be planted and mulched. Over the course of two and a half hours, we had managed to plant and mulch 19 trees and rake an acre of land, much to the amazement of the City of Denver Parks and Recreation Department!
We had a core group meeting at The Grove site on May 12th before the second clean-up day, to do a walk through and take a group photo. To our surprise, Parks and Rec had just installed the large park sign that they had promised, which read: 'The Grove at Commons Park Colorado AIDS Memorial'. To say the least, it was an emotional and affirming sight to behold. Everything we had worked on for the past seven months was all happening in a very concrete way. Additionally, all of the trees we had planted were all leafing out in a beautiful sunlit lime green that stood out against the rich greens of the natural grasses and shrubs that had just hinted at new life a few weeks earlier. We could not be more pleased this beautiful sight and the prospects that it now revealed.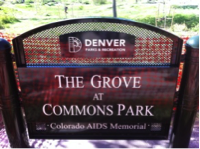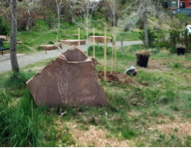 Our last volunteer clean-up day was held on Saturday May 14th, the day before the Re-dedication, to pick up any trash and do some more raking. There were about 15 volunteers for this event and we were able to get everything done in just a couple of hours. Many of these volunteers were not at the first volunteer clean-up day, so all of this was new to them, but those who were there for both clean-up days got to see the transformation that they helped create, and were quite pleased.
Sunday May 15, 2016 – Re-dedication Day was overcast with a slight chill in the air and a forecast for rain. Our core group and volunteers arrived around noon to setup and prepare for the day. Members of the Life Cycle SF to LA Ride 545 Team Colorado were there in their colorful riding gear to volunteer to greet guests and help with sign-in. One of our banners was placed at a tent table at the entrance of the park for guests to sign. Guests were directed to the stair stepped retaining wall at the hill overlooking The Grove, which allow for ample seating and a view of The Grove. Instrumentalists Chris and Scott were playing soft music as guests arrived before the program began.
Emcee and core group member Brent Heinze of Mile High Behavioral Healthcare welcomed the more than 200 guests to the re-dedication and acknowledged those who were there and involved with the original dedication, those who were there and involved with the re-dedication, contributors to the dedication bench, the volunteers and entertainers. Core group member and original member Phil Nash introduced Francis Sherwood who gave a Native American blessing, and then Phil spoke briefly about CORA (a sponsor of The Grove) and the cause of The Grove Re-dedication. He then introduced Rev. Al Halverstadt, who spearheaded the original dedication and spoke about the vision of Doug McNeil. Dr. Ben Young then spoke about the important achievements of Denver and its HIV/AIDS community such as The Denver Principals, The Gardner Cascade, and the 90-90-90 Fast Track Cities imitative. Dr. Young was followed by Allegra 'Happy' Haynes who read the Mayor's Proclamation and then by HIV/AIDS activist Barb Cardell who read the Governor's proclamation, both marking May 15, 2016 as Colorado AIDS Memorial Day. The ceremony concluded with musical performances by the Denver Gay Men's Chorus.
Just as the sun broke through the clouds without any rain, the guests were invited to take place in a red ribbon signing ceremony of remembrance and encouraged to enjoy a stroll through The Grove. It was a beautiful ending to a beautifully significant day.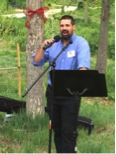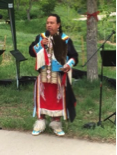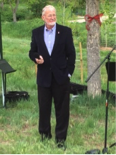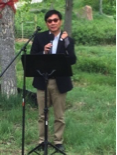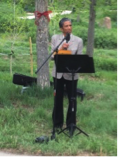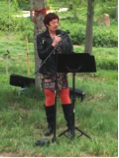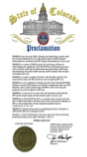 The Grove Re-dedication core group members are: Peter Ralin, Phil Nash, Lisa Cohen, Brent Heinze, Robert Riester, Jamie Villalobos, Robert George and Carrie Webber. Original supporters of The Grove Re-dedication were: Colorado Organizations Responding to AIDS (CORA), AIDS Coalition for Education (ACE), Mile High Behavioral Healthcare, Perspective Shift, Colorado AIDS Project (CAP), Robert Riester (Community Activist), Compassion Ending the Stigma, Positive Women's Network Colorado (PWN CO), and The Center. Historical input by Ray O'Loughlin and David Duffield, Graphic Design and Video support by Matt Brady, and Website Design and support by Todd Jones.
Future opportunities to support The Grove will be done in phases, so stay tuned. We sincerely hope you will take the time to visit The Grove Colorado AIDS Memorial at Commons Park (15th and Little Raven St., our Facebook page: The Grove: Colorado AIDS Memorial and our website: http://aidsgrovecolorado.org/ for further information and updates on The Grove Colorado AIDS Memorial. We would also like to thank Out Front for their extensive online and print coverage of this event, as well as Colorado Public Radio for their coverage at our volunteer clean-up day.