Colorado AIDS Memorial 2017 Recognition Ceremony
by Phil Nash
On Sunday, May 21, 2017, Friends of The Grove recognized five Coloradans who have devoted their lives and careers to the fight against HIV/AIDS. The event was held in conjunction with International AIDS Candlelight Memorial Day. Bob Bongiovanni, Barb Cardell, Michael Dorosh, Hazel Ann Harris and Carol Lease were recognized for their groundbreaking leadership as advocates, service providers and champions for people affected by HIV/AIDS and those who care for them.
The purpose of the ceremony is to "recognize individuals who have demonstrated leadership, courage, tenacity and compassion in response to the AIDS epidemic and the spread of HIV in Colorado." Friends of the Grove plans to periodically identify and recognize individuals and groups for their contributions to the creation, development and ongoing work to sustain a community of caring for those with HIV and AIDS.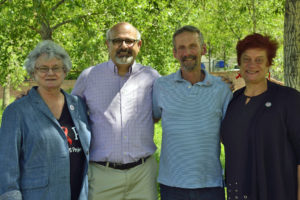 Short biographical profiles of the Coloradans honored today follows.
Carol Lease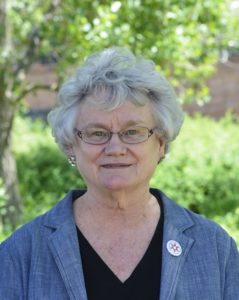 Very few Coloradans—or anyone, for that matter—has played a leadership role in HIV/AIDS services and advocacy longer than Carol Lease. Thirty-six years ago, in 1981, Carol Lease was the executive director of the Gay and Lesbian Community Center of Colorado (GLCCC). The staff of The Center's monthly newsletter, the Colorado Gay and Lesbian News, received a news release about unusual illnesses emerging in gay communities, including "gay cancer," later briefly called Gay-Related Immunodeficiency Disorder, or GRID. Soon GRID was linked to specific populations referred to as the "4-H's"—homosexuals, heroin users, Haitians and hemophiliacs, Lease recalls. "Fear, homophobia, racism and stigma ruled the day." In 1982, Lease teamed with Denver Public Health representatives in announcing the formation of the Colorado AIDS Project (CAP) as a program of the GLCCC. CAP began to provide services for the earliest diagnosed gay men in the region, and also began to educate both the gay community and the public about the growing epidemic. Early CAP advocacy achievements including participation in developing HIV-related policies for blood banks and Denver city agencies.
By 1984, AIDS diagnoses were expanding rapidly, along with a need for direct services and community-based prevention education. In response to rapidly mounting community need, CAP separated from the GLCCC and became an independent nonprofit organization to focus exclusively on HIV/AIDS. Despite having the foresight to launch Colorado's first community-based program to address AIDS, Lease recalls that her outspoken leadership style and focus on controversial issues led her to leave the GLCCC and move on to other pursuits, especially in the area of women's, gay and lesbian civil liberties issues. However, her work in the emerging field of HIV/AIDS had only begun.
In 1986, Lease became the director of The Empowerment Program, where she continued her work with HIV/AIDS, including her public advocacy for an HIV-positive African-American sex worker who was being demonized and scapegoated by the media. In the early 1990s, Carol teamed with other HIV service agencies and Denver Public Health to ensure the inclusion of community-based AIDS service organizations in the new Ryan White CARE Act funding streams for community-based services. She was a founding member of the metropolitan HIV Planning Council for Ryan White funds, where she continues to serve. For more than two decades, she has worked in various roles with Coloradans Working Together, particularly helping to ensure input into HIV prevention planning for women at high risk for HIV. She served six years on the regional U.S. Health and Human Services Office on Women's Health HIV/AIDS Work Group, which developed regional HIV prevention and care networks for Western region women who are members of ethnic and racial groups. Lease led The Empowerment Program's work with the Colorado Department of Corrections and Denver County Jail to help HIV-positive inmates with their post-release transitions to community treatment and services. Since 1994, Empowerment has offered permanent housing for women and transwomen living with HIV. With Lease's leadership, the Empowerment Program was a founding member of Colorado Organizations Responding to AIDS (CORA) where she has worked on a variety of legislative issues over the years.
While Lease's leadership in HIV/AIDS spans nearly two generations, it is too early to talk about her legacy. It continues to grow, and Lease is as engaged as ever.
Hazel Ann Harris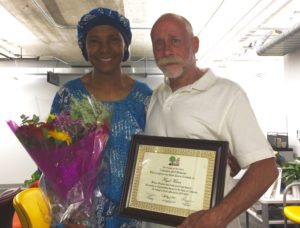 Unable to attend – Award presented on June 1
Hazel Harris is the face of hospitality at Howard Dental Clinic, where she has worked since 2010. The Clinic provides comprehensive oral health care to patients with HIV. Harris is a connector, making sure that clinic patients are connected to all the other types of care and support they need to thrive. A longtime community activist, Harris says her life purposes are to love, educate and serve. She speaks to community groups, schools and universities about human rights issues. Professionally, her extensive experience in program administration, case management, community outreach and advocacy has enabled her to work with thousands of individuals from different ethnic and socio-economic backgrounds.
Harris has been involved in—and passionate about—HIV work and volunteering for more than 17 years. Prior to joining Howard Dental, Harris worked as a case manager liaison facilitating communication and case coordination among Northern Colorado AIDS Project, Boulder County AIDS Project and the Beacon Clinic. She also provided intensive and proactive case management in Boulder, Broomfield, Clear Creek and Gilpin Counties. Her volunteer activities included transporting patients, food deliveries, furnishing homes and coordinating end-of-earth-life arrangements. Working at Howard Dental aligns with Harris's core values—integrity, social responsibility and treating each patient with dignity. "Patients are the heart and soul of our work," she says. "When I go home, what makes me feel the best about working at Howard Dental is that I've given it my all. I have listened to our patients, and I've helped them, to the best of my ability, to reach their goals." And best of all, says Harris, "I have fun!"
Michael Dorosh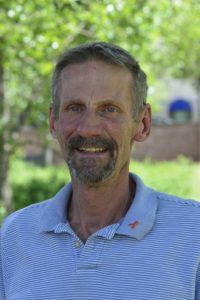 Michael Dorosh's career in the service industry gave him a front-row seat to the devastation of HIV and AIDS in Denver's gay community. He was the general manager of two legendary gay bars, the original Tracks and the Fox Hole, and later a bartender at Charlie's and owner of the Footloose Café. For years, he fought his own death from AIDS, leading him to a new career in a new career as an HIV activist in the areas of research, empowerment, advocacy and education. His many accomplishments span local, national and international work on HIV including the following:
– Cofounder of Treatment Educat10n Network (TEN) whose mission is educating and empowering people living with HIV. He has directed its three programs—HIV Retreat at Shadowcliff, Community Educat10nal Forums and the TEN Newsletter
– Since 2001, a member of the AIDS Treatment Activists Coalition (ATAC), a national organization that meets annually with pharmaceutical companies as an HIV advocate providing input on clinical trials and drug rollout. He is a member of ATAC's board of directors and co-chair of the Drug Development Committee.
– Since 1995, involved with the University of Colorado AIDS Clinical Trials Group (ACTG) Community Advisory Board, and has served on the national Global Community Advisory Board. He has also served two four-year terms on the ACTG Community Scientific Subcommittee, and on ACTG's Cure Committee.
– Since 2007, he has served on the Shadowcliff board of directors, which operates Shadowcliff Lodge.
– Since 2003, he has been a member of the State of Colorado Care Advisory Committee, formerly the State ADAP Committee, where he was part of the ADAP Working Group.
– From 1998-2007, he served on the Denver Ryan White Planning Council where he served as a chair and also chaired several committees.
Colorado's HIV community has benefited from Dorosh's expertise gained by his attendance at national an international conferences include the Conference on Retroviruses and Opportunistic Infections; the US Conference on AIDS; AIDS, Medicine & Miracles, and meetings of the European AIDS Treatment Group.
Barb Cardell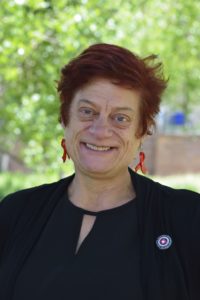 Barb Cardell starts each day with a question: "What will you do with your wild, precious life?" Cardell lives in Boulder, Colorado where she advocates for HIV+ women's rights and awareness on a local, state and national level. In the early 1990s, six months after she married her husband, Cardell learned she was HIV-positive and didn't know if she had long to live. Long active in AIDS and human rights issues, Cardell lost little time before distinguishing herself as an advocate with boundless energy and conviction. She was appointed to the Colorado Governor's Advisory Council on HIV/AIDS, but feels she hit her stride years later by taking on national leadership roles in the Positive Women's Network (PWN) starting in 2008, then forming a local PWN chapter in 2012. In 2011, Governor Bill Ritter appointed Cardell to the Colorado Coalition for HIV Care and Prevention and was elected vice chair in 2012. She is also sits on the steering committee of the People Living with HIV National Caucus.
Among her many accomplishments, Cardell created the "If I Were HIV+" education campaign for National Women and Girls HIV/AIDS Awareness Day. In 2016, she was a champion for legislative efforts to decriminalize HIV in Colorado. She also led an effort to compile stories of 18 Colorado women living with HIV in a project called Staying Positive. Cardell's advocacy for people living with HIV has been featured in local and national media. In a PLUS Magazine article naming her among its 2016 "Most Amazing HIV Positive People," Cardell said, "We are amplifying the voice of people living with HIV—nothing about us without us!"
Bob Bongiovanni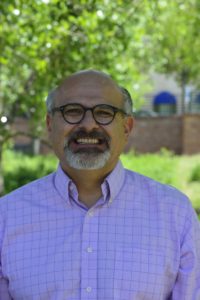 A native Coloradan, Bob Bongiovanni studied accounting at the University of Denver, graduating in 1984 prepared to enter the business world. He began working as a CPA just as HIV started affecting people he loved. Bongionvanni started volunteering with a group that trained teachers how to address HIV. Eventually, he abandoned accounting (admitting he "didn't really have an accounting personality") as his volunteer work evolved into full-time employment in HIV prevention, substance-abuse prevention and health promotion. In 1994, he earned a masters' degree in community psychology from Regis University and began working as a health educator for Jefferson County. This led to his involvement in statewide HIV prevention planning with Coloradans Working Together (CWT), where he served as steering committee chair and wrote major portions of the statewide plan. In 1996, Bongiovanni became the state CWT coordinator with the Colorado Department of Public Health and the Environment (CDPHE). "These were the exciting years, transitioning from the conservatism of the Reagan/Bush era to the openness of the Clinton era, and seeing the miraculous results of the medical advances in HIV," says Bongiovanni. In 1998, CWT won the Core Values Award from the International Association for Public Participation.
Bongiovanni spent the next 21 years at CDPHE working in a series of positions including the management of HIV planning, training, prevention contracting, and care services. He made dozens of presentations at the state and federal levels and wrote plans, curricula, guidelines, policy analyses, budgets, and standards of care. Prevention and care programs Bongiovanni managed earned national recognition and opportunities to consult with HIV programs in other states. While waiting lists formed in other states for state-subsidized HIV drugs, Colorado's AIDS Drug Assistance Program was expanding to meet ever-growing needs. Bongiovanni is especially fond of projects that built healthier communities for gay men including Brothers Forever, Colorado's longest-lasting program for men of color, and ManREACH, which has touched hundreds of rural gay men. Bongiovanni retired from CDPHE on March 1, 2017, but his passion for the work continues. "As the battles to preserve and build upon our past gains begins to heat up," says Bongiovanni, "I will continue to be an advocate for healthy and just communities for all."
---